Beach & Playgrounds at Northland Lodge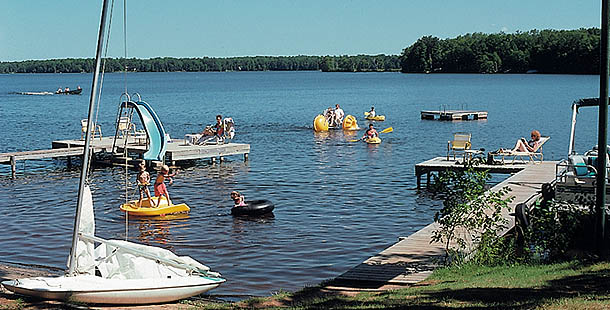 Safe playgrounds with spring-fed, sandy bottom, gradually sloping beach
Northland Lodge has fun activities for the entire family. We are blessed with a safe spring-fed sandy bottom beach because it's on Barn Bar. It is so named because they had barns for horses that pulled logs here in logging days.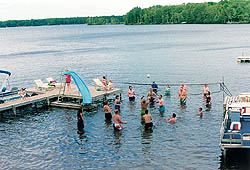 Our beach has a toddler pond with half water & half sand with toddler swim slide, swim raft, children's swim slide, and sun decks and lounges for all.
Enjoy our: Big wheel aqua-cycle, hydro-bikes, stable two-person trainer canoe, stable trainer kayaks, standard size canoes & kayaks, fun bugs, paddle boats and old-time inner tubes
Enjoy our family-friendly playgrounds:
Our Nature Trail is a rare, untouched, glaciated nature trail
The Playground complex has a swing set, sway bridge, slide, playhouse, and sandbox
We have areas set up for badminton, horseshoes, water or land volleyball
Children enjoy our Lodge deck with Tiny Tikes toys
Our fire pit is the scene of singing camp songs, scary stories and smores
Why do they call them fun bugs? Because they propel you forward if you plant your feet and shift your weight from one leg to another.
"Thank you for your countless adventures occurring under your stellar guidance." Tom Kusbel
"Our kids are perfectly safe here." Mark & Janet Eastman
"Here you don't have to worry about anything." Ray Nelson
"You are our kids best time of their lives." John Verre